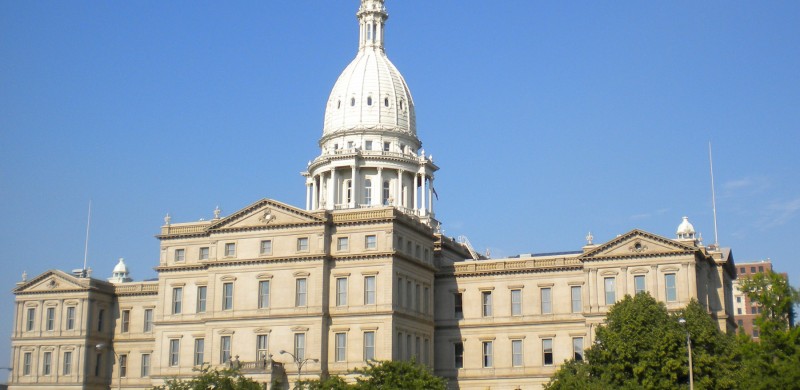 June 18, 2014 – An article in the County Press newspaper in Lapeer County Michigan written by Phil Foley asserted that a local medical marijuana activist identified as Jamie Fricke, 34 was headed for trial on one of the three felony drug charges.
Fricke's attorneys persuaded Chief Circuit Court Judge Nick O. Holowka to recuse the Lapeer County Prosecutor's Office from her prosecution in a case stemming from a February 2012 raid on her home by the Lapeer County Sheriff's Dept.
Some Excerpts from the article…
"Fricke's new defense attorney, Michael Komorn of Southfield, maintained that since Lapeer County Prosecutor Tim Turkelson once defended Randy Crowell, who opened a medical marijuana dispensary in Dryden, and that Fricke had been an employee of Crowell, she had shared "secrets" with Turkelson that tainted any prosecution against her."
"I didn't sign up for this," Komorn told Holowka Friday afternoon. He told the judge that both as a defense attorney and as prosecutor Turkelson had questioned the truthfulness of the lead investigator in the case against Fricke, Lapeer County Sheriff's Dept. Det./Lt. Gary Parks."
Lt. Gary Parks was involved on the raid on Fricke's Lapeer home Feb. 21, 2012, and reportedly found 18 pounds of marijuana.
While Komorn asked for the Lapeer County Prosecutor's Office to be recused from the trial set for Tuesday (June 17), Turkelson stated Fricke is facing two other related felony charges.
"He said following the Feb. 21 search of her home, police stopped Fricke March 27, 2012, to serve the arrest warrant issued after that search. Turkelson said police found "medibles," food stuffs with marijuana in them, in her car. That resulted in another felony charge for manufacture and delivery of marijuana."
"Fricke's car was stopped a second time May 10, 2012. This time, Turkelson said police found nine red Solo cups with marijuana plants in them, containers of marijuana butter and oil and two large and one small mason jars filled with marijuana buds. Fricke was charged for a third time with felony manufacture and delivery of marijuana."
"Last month police reportedly stopped Fricke for doing 10 miles an hour over the speed limit on I-69 and in addition to citing her for speeding, police issued a misdemeanor citation for improper transport of medical marijuana.
"Turkelson said that while Holowka only recused his office from the Feb. 21 case, he decided to put all four cases together and turn them over to the state Attorney General's Office for reassignment to a prosecutor in a neighboring county.  He said that should take two or three weeks to complete and then a month after that before the new prosecutor sets another pre-trial conference."
Komorn claimed Turkelson  engaged in "prosecutorial misconduct," and said he planned to file a Bar Association complaint.
Komorn said "three people saw (Turkelson) in the sanctity of the defense war room."
"Turkelson said later that Fricke was not charged in either of those incidents and was only an employee at Crowel's dispensary."
One the affidavits Komorn supplied the court was from former assistant prosecutor Matt Funke.  Funke wrote in the document that Turkelson had told the prosecutor's staff that Lt Gary Parks has "a propensity not to be honest."
While Komorn wanted Holowka to dismiss the charge against Fricke because the "system is so corrupt," the judge only agreed to reassign the case.

See original article here…Lapeer County prosecutor pulled off marijuana case
---
Michael Komorn is recognized as a leading expert on the Michigan Medical Marihuana Act. He is the President of the Michigan Medical Marijuana Association (MMMA), a nonprofit patient advocacy group with over 26,000 members, which advocates for medical marijuana patients, and caregiver rights. Michael is also the host of Planet Green Trees Radio, a marijuana reform based show, which is broadcast every Thursday night 8-10 pm EST. Follow Komorn on Twitter.