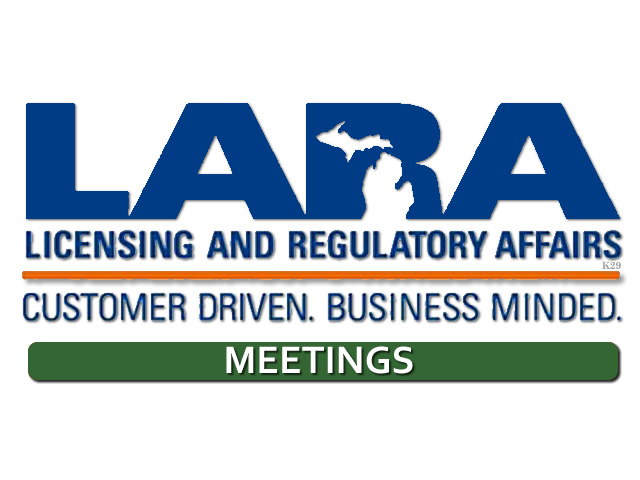 DEPARTMENT OF LICENSING AND REGULATORY AFFAIRS (LARA)
BUREAU OF MEDICAL MARIHUANA REGULATION
MEDICAL MARIHUANA FACILITIES
NOTICE OF PUBLIC HEARING
Monday, September 17, 2018 @  9:30 AM
Williams Building, 1st Floor, Auditorium
525 West Ottawa Street Lansing, MI
---
The Department of Licensing and Regulatory Affairs, Bureau of Medical Marihuana Regulation will hold a public hearing on Monday, September 17, 2018, at the Williams Building, 525 West Ottawa Street, Lansing, Michigan in the 1st Floor Auditorium at 9:30 A.M.
The hearing will be held to receive public comments on
the proposed Medical Marihuana Facilities rules.
The proposed Medical Marihuana Facilities rules (2017-042 LR) is a new rule set. The rule set provides for the implementation of a program to license medical marihuana facilities. The rule set implements, administers, and enforces appropriate standards for marihuana facilities and associated equipment and
establishes regulations ensuring the safety, security, and integrity of the operation of marihuana facilities.
These rules are promulgated by authority conferred on the Department of Licensing and Regulatory Affairs
by Section 206 of the Medical Marihuana Facilities Licensing Act (MMFLA), 2016 PA 281, as amended, MCL 333.27206.
These rules will take effect immediately upon filing with the Secretary of State.
The rules are published on the Office of Regulatory Reinvention's website at www.michigan.gov/orr and in
the September 15, 2018, issue of the Michigan Register.
Public comments on the proposed rules may be
presented in person at the public hearing or submitted to the following address until 5:00 P.M. on Friday, September 21, 2018.
Copies of the proposed rules may also be obtained by electronic transmission at the following address:
Department of Licensing and Regulatory Affairs
Legal Section, Bureau of Medical Marihuana Regulation
P.O. Box 30205
Lansing, MI 48909
Phone: 517-284-8584
Fax: 517-284-8598
E-mail: LARA-BMMR-Legal@michigan.gov
---
I would…Call the day before to confirm this meeting is still on. The phone number provided by LARA above.
---
Komorn Law has represented numerous clients through the legal chaos of starting up a business in the Michigan Medical Marihuana Industry.
If you or someone you know is facing charges as a result of Medical Marijuana, DUI, Drugs, Forfeiture, Criminal Enterprise, etc. Please contact our office and ensure you're defended by an experienced lawyer in the evolving laws.
Lead attorney Michael Komorn is recognized as an expert on the Michigan Medical Marihuana Act. He is the President of the Michigan Medical Marijuana Association (MMMA), a nonprofit patient advocacy group which advocates for the rights of medical marijuana patients and their caregivers.
Contact us for a free no-obligation case evaluation
800-656-3557.
Follow Komorn Law