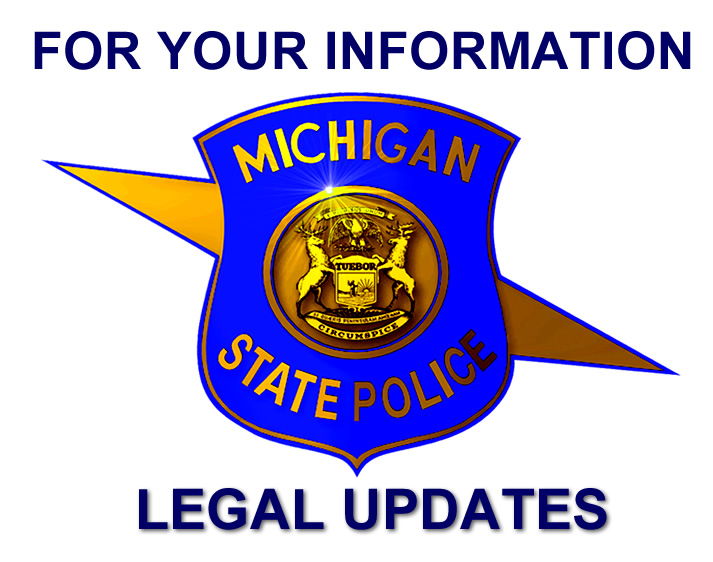 From November 1999 through August 2016
MSP Legal Update No. 125 (08/16)
Statutes: Used Motor Vehicle Parts Act amended regarding buying and receiving used motor vehicle parts, including used motor vehicle tires, tire wheels or rims, or continuous tire tread.
MSP Legal Update No. 124 (08/16)
Statutes: Amendments to the Michigan Penal Code to add the crimes of assault and battery of a pregnant individual and intentional dissemination of sexually explicit visual material of another person.
Criminal Law: A homeowner or another person rightfully possessing a home after it has been foreclosed on and sold at a sheriff's sale cannot be prosecuted for larceny in a dwelling house when he or she removes fixtures from the home during the statutory redemption period.
Vehicle Code: A temporary registration plate that is not in a clearly visible position or in a clearly legible condition provides reasonable suspicion that MCL 257.225 is being violated.
Criminal Law: Once lawfully inside a "dwelling," a person cannot be prosecuted for home invasion for subsequently entering an interior room of the dwelling without permission.
Vehicle Code: The portion of a person's private driveway immediately next to his or her private residence is not a place "open to the general public" or a "place generally accessible to motor vehicles" for purposes of the Michigan Vehicle Code.
Medical Marihuana: A person who smokes marihuana in his or her own car while parked in the parking lot of a private business that is open to the general public is not entitled to assert the immunity or defense provisions of the Michigan Medical Marihuana Act.
Vehicle Code: The presence of a towing ball attached to a vehicle which obscures or partially obscures the registration plate is a violation of the Michigan Vehicle Code.
Statutes: Michigan Vehicle Code amended to allow electronic copies of certificates of insurance.
Statutes: Amendments to the Firearms Act affecting the process for obtaining a Concealed Pistol License.
Criminal Law: Resisting and obstructing statute does not apply to reserve police officers; Did you Know? Vehicles manufactured as a golf cart or as an off road vehicle (ORV) cannot be modified and titled as an assembled vehicle for on-road use.
Criminal Law: Amendments to the Firearms chapter of the Michigan Penal Code related to firearms and pneumatic guns; Criminal Law: Amendments to the Natural Resources and Environmental Protection Act related to firearms and pneumatic guns; Statutes: Amendments to the definition of "firearm" found in the Firearms Act, the Revised Statutes of 1846, and the Death or Injuries from Firearms Act.
Search and Seizure: Absent reasonable suspicion, extension of a traffic stop in order to conduct a dog sniff violates the Fourth Amendment; Statutes: Provisions of the Michigan Vehicle Code relating to "preliminary roadside analysis" eliminated.
Sexual Assault Victims Rights: Information and notices required to be provided to a sexual assault victim; Statutes: Requirements for the collection and handling of sexual assault kit evidence.
Criminal Law: Various human trafficking and prostitution statutes amended; Forfeiture: Various forfeiture provisions amended.
Statutes: Provisions of the Michigan Vehicle Code relating to operating a vehicle while intoxicated amended.
Statutes: Amendments to the Firearms Act Affecting Access to Firearms Records. Did you Know? Handcuffing a person unduly tight or excessively forceful is a violation of the Fourth Amendment.
Search and Seizure: A police officer may frisk a suspect only if there is reasonable suspicion to believe the suspect is armed and dangerous.
Vehicle Code: The mere presence of a towing ball attached to a vehicle which obscures or partially obscures the registration information on a registration plate is not a violation of the Michigan Vehicle Code.
Search and Seizure: Police officers are generally required to obtain a search warrant to search digital information on a cell phone seized from a person incident to arrest.
Criminal Law: Felon in possession statute amended to prohibit ammunition in addition to firearms.
Criminal Law: Sex Offenders Registration Act verification and annual registration fee requirements amended.
Criminal Law: Michigan Penal Code amended to allow a person to make, manufacture, transfer, or possess a short-barreled shotgun or short-barreled riffle under certain conditions.
Criminal Procedure: Audiovisual recording of custodial interrogations for major felonies.
Criminal Law: Organized Retail Crime is now prohibited by Michigan Law; Vehicle Code: Removal of moped passenger restrictions.
Medical Marihuana: The protections of the Michigan Medical Marihuna Act extend to a registered qualifying patient who internally possesses marihuana while operating a vehicle unless the patient is under the influence of marihuana; A registered qualifying patient is not entitled to immunity from arrest prosecution, or penalty under section 4 of the Michigan Medical Marihuana Act for transferring marihuana to another registered qualifying patient. A registered primary caregiver is not entitled to immunity under section 4 of the Michigan Medical Marihuana Act for transferring marihuana to anyone other than a registered qualifying patient connected to the caregiver through Michigan's registration process; Section 4 of the Michigan Medical Marihuana Act does not provide a registered primary caregiver with immunity from arrest, prosecution, or penalty when growing marihuana collectively with other registered primary caregivers and registered qualifying patients; The definition section of the Michigan Medical Marihuana Act was amended, including provisions for growing marihuana plants outdoors; The Michigan Penal Code amended to include restrictions on transporting usable marihuana in or upon a motor vehicle.
Criminal Law: Uncompensated transfers of marihuana between registered qualifying patients constitutes medical use of marihuana under the Michigan Medical Marihuana Act; A person cannot be prosecuted under MCL 750.237 for constructive possession of a firearm while intoxicated in his or her own home.
Criminal Law: Michigan law prohibiting begging in a public place is unconstitutional;  Back-To-Basics Hot pursuit exception to search warrant requirement.
Criminal Law: Michigan Penal Code and Firearms Act amended to allow for possession and reasonable use of Tasers by Michigan Concealed Pistol License holders.
Criminal Law: Michigan law prohibiting the possession of tasers and stun guns is unconstitutional; The Michigan Medical Marihuana Act does not protect a person from arrest if the person's registry identification card is not reasonably accessible at the location of arrest.
Statutes: Michigan fireworks laws amended to expand the types of fireworks that may be sold to and used by consumers without a permit.
Criminal Law: Common chemical compounds found in synthetic cannabinoids (K2/Spice) and synthetic cathinones (Bath Salts/Plant Food) added to list of Schedule 1 controlled substances.
Vehicle Code and Medical Marihuana: A person shall not operate a motor vehicle with any amount of a Schedule 1 controlled substance, including medical marihuana, in the person's body.
Vehicle Code: Motorcycle helmet use
Search and Seizure: The installation of a GPS tracking device onto a suspect's vehicle constitutes a search; Interview & Interrogation: Imprisonment alone does not constitute custody for purposes of Miranda
Sex Offenders Registration Act: Homeless offenders permitted to use emergency overnight shelters in student safety zones under certain conditions; Commercial Motor Vehicles: Use of hand-held mobile telephone while driving
Legal Update No. 92 (12/11) Search and Seizure: Consent-once-removed doctrine; Back to Basics: Restrictions on entry into a residence to make an arrest with a warrant or a warrantless felony arrest
Attorney General Opinions: Law enforcement officers are not required to return marihuana to a registered patient or primary caregiver upon his or her release from custody; Vehicle Code: Authorized emergency vehicles
Public Health Code: Bath salts added to list of Schedule 1 controlled substances; Drug forfeiture funds may be used for any law enforcement purpose; Back to Basics: Michigan law does not prohibit citizens from recording police officers performing their duties.
Criminal Law: The Michigan Medical Marihuana Act does not permit the sale of marihuana; The Michigan Medical Marihuana Act requires the physician's statement occur before the illegal conduct in order for the affirmative defense to apply and in order for the person to be immune from arrest, prosecution, or penalty
Statutes: Sex Offenders Registration Act amendments; the tier system; the reporting requirements; homeless offenders; employee definition includes volunteers; non-residents; penalties.
Search and Seizure: Age must be considered when determining whether to give Miranda warnings to juvenile suspects; Vehicle Code Moving violations in school bus zones
Firearms Law: Open carry; unlawful premises; brandishing; transporting; carrying concealed; pistol registration; CPL pistol free zones; possession by out-of-state residents.
Criminal Law: Prohibited use of tracking devices; downloading child pornography on a CD-R does not automatically mean manufacturing; searching for child pornography on the Internet may be possession; 11-Carboxy-THC is not a controlled substance; sexual contact includes touching for humiliation
Criminal Law: Carrying a dangerous weapon with unlawful intent, MCL 750.226 Vehicle Code: Texting while driving
Public Heath Code: Smoke Free Law Vehicle Code: Removing motor vehicles involved in traffic crashes from roadway
Criminal Law: Homeless not required to register Back-to-Basics: Request for an attorney prior to chemical test
Vehicle Code: Implied consent violations and inevitable discovery Back-to-Basics: Hot pursuit exception to the warrant requirement
D.N.A. Law: Collection of samples at arrest; post-conviction testing
Criminal Procedure: Interrogation after appointment of counsel
Criminal Law: Medical marihuana rules & identification cards Criminal Procedure: Search warrant for wanted persons
Criminal Procedure: Limits on searches incident to arrest
Criminal Law: Catalytic converters added to larceny from a vehicle Criminal Procedure: Police responsibility to disclose exculpatory evidence
Criminal Law: Nonferrous metal regulatory act (scrap metal); secondhand and junk dealers; larceny and nonferrous metal
Criminal Law: Leaving child unattended in vehicle; child abuse – reckless endangerment
Firearms Law: Certification for retired police officers
Vehicle Code: Passing stationary waste haulers, utility vehicles, and road maintenance vehicles D.N.A. law: Use and misuse of DNA samples or profiles; disposition of samples or profiles; effect of good faith errors
Firearms Law: Possession of another's pistol; CPL revocation; "legal resident" defined; pistol-free zones; new residents with out-of-state CPLs; pistol possession by non-residents; judges and pistol-free zones
Firearms Law: Pistol safety inspections eliminated Criminal Law: Dog bite requirements
Criminal Law: Medical Marijuana
Search & Seizure: Canine sniff of house Did You Know?: License expiration Back-to-Basics: Terry pat downs
Vehicle Code: Booster seat requirement Criminal Law: CSC by school employees
Statutes: Breaking & entering of shipping containers; animal abuse Back-to-Basics: Firearms – open carry, possession of another's pistol, non-resident possession, safety inspection certificates, ammunition & long-guns, CPL notification requirements
Statutes: Private (Professional) Investigators Criminal Law: Interfering with crime report
Search & Seizure: Search incident to arrest – passenger arrests; search warrants based on e-mail address
Vehicle Code: Video displays in view of driver Back to Basics: Witness tampering
Criminal Procedure: Children and dying declarations Search & Seizure: Locked glove boxes and searches incident to arrest
Criminal Procedure: Drug field tests admissible at prelims Attorney General Opinion: Illegal aliens and driver's licenses Back to Basics: Border searches
Vehicle Code: Signaling lane changes Criminal Law: Elements of felony nonsupport Did You Know?: Scope of implied consent hearings
Vehicle Code: Unsigned registrations — not illegal Back to Basics: Lawful purposes for transporting a pistol
Search & Seizure: Protective property checks Criminal Law: Minor refusing PBT
Criminal Procedure: Forfeiture of improperly seized property Search & Seizure: Constructive entry Did You Know?: Authority of police to violate law Back to Basics: Police orders to have a person exit a vehicle
Criminal Procedure: Prosecutor disqualification; Ineffective counsel; Passengers challenging stops Search & Seizure: Searches of items owned by passengers Back to Basics: Crime scene exception Did You Know?: Unattended vehicle
Legal Update No. 55 (05/07) Criminal Procedure: Use of force in medical situations Search & Seizure: Abandoned property; Inventory of personal property; Post-fire searches Did You Know?: Open carry of a pistol, part II Back to Basics: Police-citizen encounters
Criminal Procedure: Dying declarations; faulty Title III warrants Search & Seizure: 911 hang-ups and Terry stops Interview & Interrogation: Refusal to provide a written statement Use of Force: Vehicle pursuits & intentional collisions Did You Know?: Open carry of pistols Back to Basics: Liquor inspections
Statutes: Libraries as drug free zones; Junk dealers; Embezzlement from a charity Did You Know?: Exceeding authority when executing a search warrant Back to Basics: Entering a residence to make an arrest
Statutes: Libraries as drug free zones; Junk dealers; Embezzlement from a charity Did You Know?: Exceeding authority when executing a search warrant Back to Basics: Entering a residence to make an arrest
Criminal Procedure: Investigative subpoenas Did You Know?: Court and AG Opinions Back to Basics: Bond and search incident to arrest
Statutes: LEIN checks for parole status; Felony OWI – three in lifetime; Search & Rescue teams; Private road Vehicle Code enforcement; Meth lab website; Military ID and alcohol purchases; Furnish cell phones to prisoners; Assaults upon corrections officers Search & Seizure: Miranda and co-tenant's consent; Exigent circumstances in meth labs Interview & Interrogation: Public safety exception to Miranda Did You Know?: Vehicle inspections Back to Basics: Tricks during interrogations
Statutes: Self-defense sprays; Juvenile breath tests Search & Seizure: Consent searches and third-party property Interview & Interrogation: Suspect understanding of rights Did You Know? Armored vehicles Back to Basics: Interview of juvenile suspects
Statutes: Felony Murder; Sex Offender Registry Did You Know?: Possession of Untaxed Tobacco Back to Basics: Interrogation & Miranda
Statutes: Impersonating a Firefighter Did You Know?: Interpreters for the deaf Back to Basics: Custody & Miranda
Statutes: Harboring a Fugitive; The Self-Defense Act; Sales of Ephedrine; Meth Reporting; Child Abuse Reporting Search & Seizure: LEIN Checks as a Search Did You Know?: Arrest of Parole Violators Back to Basics: Miranda requirements
Statutes: Kidnapping; Unlawful Imprisonment; Human Trafficking OWI Law: Independent Chemical Tests; Criminal Procedure: Definition of 'Firearm' Did You Know?: Possession of Firearms by Non-Michigan Residents Back to Basics: Inventory Search Summary
Statutes: Disorderly conduct at funerals; School lockdown drills; CPL expiration dates; Knock-and-announce Cases: Metabolized THC in OUID cases; Admissibility of 9-1-1 tapes; Consular notification; Plain smell; and Exculpatory Evidence
Statutes: Electronic monitoring of parolees; Replacement of license plates; Forfeiture, Display of emblems. Cases: Aiding and abetting; "Operate" defined; Accessory after the fact, Response to burglar alarms; Knock and announce; and Hot pursuit
Hearsay exception – domestic violence; Disorderly conduct at funerals; Emergency exception to search warrant rule; Soliciting a minor using a computer; Minor possessing BB gun; Terry pat-down review; Cigarette butts as litter
Statutes: Gray market cigarettes; Truck speed limit – 60 mph; Phone & computer tampering; E-mail SOR notification; Police scanners; CPL Holders – pistols owned by others; Extension of expired CPL Cases: Consent search when suspect refuses; Anticipatory search warrants; Vision obstruction; Seizures while driving; OUIL law summary Attorney General Opinions: Machine guns; Child custody
Identity Protection Act; Public Act 458 Statute of Limitations; Secretly obtaining another's personal identification; Venue for prosecution of identity theft; Expansion of prohibited explosives law.
Evidence obtained in violation of Miranda; First confession without warning may taint second confession; Venue for prosecution is where the crime occurred; Taser law amended; Hazing law created.
Michigan adopts good faith exception; ID proceedings that occur prior to any adversarial judicial criminal proceeding; Knock and talk procedures and remaining in the home without consent; Mandated reporters and reporting suspected child abuse.
False reports now include 911 operators; Urine can be considered a harmful substance for adulterated food charge; Perjury does not require proof of materiality; Eaves dropping statute amended; Carjacking statute rewritten; Armed Robbery statute rewritten; Unarmed Robbery rewritten; May arrest for OWI if have probable cause to believe subject operated under the influence
.
Emergency services providers may not detain an individual suspected of carrying a communicable disease; Officers may not initiate questioning when the Sixth Amendment is invoked; CSC fourth constitutes an assault for Home Invasion charges; District court judges may issue search warrants.
OUIL/.08 Legislation-Public Act 61; Zero tolerance for certain controlled substances; Misconduct in office applies when a police officer acts with "corrupt purpose;" Uttering and publishing may include a copy of a document.
False impersonation of a police officer statute rewritten; Registration violations are civil infractions; Assisting a subject does not automatically render liability; Statutory right to polygraph extends until the verdict; Eavesdropping charges may be brought against a subject who hides a camera in his own bedroom.
Premeditation requires time for a second look; Officer's subjective reason for searching; No VIN exception to the search warrant rule; Accident scenes and the Fifth Amendment; Misconduct in office; The exclusionary rule.
Suppression of a confession; Felony Firearm Conviction; Indecent Exposure; Reasonable suspicion for a Terry Stop; Accidental dog bite by a police K-9.
One count carjacking, two occupants; False police report may apply to false crime details; Charges for felony murder could be brought against a mother who left children in locked car; Forceful act must occur at the time of the taking for armed robbery; "Confessing to all charges would be in your best interest" is not a promise leniency; Zero tolerance violation may be used to enhance OUIL charge.
Child sexually abusive material is rewritten: New definitions, New penalties; Operating a locomotive under the influence; CSC includes actions by teachers; Possession of counterfeit tax stamps for cigarettes requires knowledge that they are counterfeit.
Conspiracy charges may still occur even if the police become involved; Statute on stun guns rewritten; Traffic stops may be based on reasonable suspicion and Officers do not have to "verbally" identify themselves; Possession of stolen car is a felony; CCW and DNR violations; Changes made in drug penalties.
Statements obtained in violation of M.C.L. 764.27; Liability may occur where an officer makes an arrest after being insulted; Second warrant is needed to reenter property already searched; Raising an OUIL Causing Death to a charge of Second-Degree Murder; Receiving and concealing stolen property.
Violation of 48-hour rule may lead to liability; Admissible evidence; Claiming defense of an unborn child; Sexual contact has been redefined; Mental Health official added to Criminal Sexual Conduct; Force requirement under CSC; Police officers allowed to carry certain weapons.
Questioning during an OUIL investigation; Robbery charges require some type of force or violence; The "Castle Doctrine;" Open fields exception and protected curtilage; A prevailing claimant in a forfeiture action; Use of drugs is no defense to criminal activity unless it was a specific intent crime and the defendant had an unforeseeable reaction to medication or other legal substance.
Resisting and obstructing, along with assault upon officers, now under new law MCL 750.81d; "Reasonable" assistance in locating witnesses for defense; What is needed for forceful entry into a house; Illegal possession of a controlled substance can be actual or constructive; The offense of Fleeing and Eluding does not require a certain speed or distance
.
Concealing or storing a stolen firearm can be considered a continuing offense; Reasonable suspicion is the proper standard for investigatory detentions; "Household" is an all-inclusive word for a family unit residing under one roof; Detainment for on-scene-identifications, or shows, may take such time that is reasonable.
A bail Bondsmen can be liable for a false arrest; An inoperable vehicle is still considered mobile for the automobile exception to a search warrant; Soliciting minor for immoral purposes does not require knowledge of actual age; "New" procedures for search warrants; etc.
Simple assault and battery becomes a 93 day misdemeanor; Domestic Relationships includes dating relationships; Officer may arrest for violation of personal protection orders issued from other states, Indian Tribes or United States Territory; It is not entrapment where the police do nothing more than present the defendant with the opportunity to commit the crime of which he was convicted;
Charges of "felon in possession of firearm;" Authority of local officers deputized by the County Sheriff; Prisoners giving testimony in court cannot be shackled; Gross indecency; Proving the offense of "carrying a firearm while under the influence;" Felonious driving now applies to all places open to the general public.
The "knock and talk" tactic is constitutional; The scope of consent; "No-Knock Warrant"; Euthanasia is not justifiable homicide; New Terrorism Legislation; Increased penalties for other violations.
Legal impossibility is not a defense in Michigan; Increased penalties for Construction Zone Injuries; Increased penalties for traffic injuries to farm workers; An unauthorized driver of a rental car my have standing to challenge search; "Just shy of" reasonable suspicion to detain a motorist; "Assault Upon an Employee of a Place of Confinement"; Interest on returned forfeiture.
Examining the exterior of an item without a search warrant; The crime a making a false police report; Lying does not constitute resisting and obstructing; Depositing money from a business transaction to a personal account; Sex Offender Registration includes youthful offenders; Delivery of controlled substance includes social sharing.
Requirements when stopping CCW license holder; CCW Free Zones; Carrying "while under the influence"; Seizure of pistols; Notice of suspension; Impersonating an FIA worker; Assault upon FIA workers; Lacking knowledge of drug amount-no defense for a delivery charge, but may be a defense for a conspiracy charge.
Failure to leave copy of affidavit; The "public safety" exception for Miranda; Felons in "possession of a firearm"; Statute of Limitations-Public Act 6 of 2001 MCL 767.24; Two parties drag racing-both are "involved" when an accident occurs.
Thermal Imaging violates Fourth Amendment without search warrant; Rioting includes actions aimed at police officers; Entering a residence when it's believed that a person within is in need of immediate help; Failure to look at officers-one factor to establish reasonable suspicion; A juvenile's confession is admissible if the statement is voluntarily made.
Uttering and publishing; Questioning a suspect after requesting an attorney; "Reasonable beliefs" to armed robbery; Unrecovered buy money; Knowing and voluntary waiver of Miranda rights; "Totality of the circumstances" in determining if a confession is admissible.
Attorney/Client privileges; A "spiritual" therapist; Use of audio tape to identify a suspect; Restitution under Crime Victims Rights; Listening to cordless phone conversations is eavesdropping; Sixth Circuit upholds stalking statute; Reasonable detention of a suspect is constitutional.
First degree murder for killing a police officer; Retreat from one's porch; Pulling a telephone cord from the wall; Polygraph by a witness; Leaving a copy of an affidavit; Felony for training an animal to fight; CCW does not apply to double-edged knives.
Officers must inform suspects that attorney is available; US Supreme Court invalidates drug checkpoints; Can be convicted of OUIL causing death and involuntary manslaughter; Obtaining blood results from hospital may invade doctor patient privilege; Absconding on a felony charge; PPO Violations; 1st degree murder for killing a police officer upheld.
New law on sale of Nitrous Oxide; Increased penalties for Methamphetamine; Abandoned vehicles on trunklines; The authority of bordering states police officers; School officials can request vehicle info; Lawfully abandoning newborns; The smell of intoxicants may result in an investigatory detention; Gamma-Butyrolactone illegal for human consumption.
Probable cause to issue a search warrant; Assault with intent to commit unarmed robbery is included in felony murder; Unarmed robbery charges; Statute of limitation when suspect lives in another state; Right to a jury for MIP trials; CSC 2nd degree.
Investigative detention; Charges for leaving the scene of an accident; Sale of children; Felons in possession of body armor; Vulnerable adult fraud.
Searching the casing surrounding the gear shift; Miranda rights; Mental anguish required for 1st Degree CSC; Warrantless arrest authority; Spousal privilege law change.
Measuring the length of the truck; Incest charges under CSC; Vulnerable Adult Abuse; Third degree Child Abuse; Criminal activity on the Internet; PPO process.
Privacy of luggage; Warrantless entry under exigent circumstances; Voluntariness; Admissible statements against a co-defendant; Removal of victim from life support; Plea bargaining statements.
Anonymous call of man with a gun; Lying to a police officer; Felony firearms charges.
The Odor of Marijuana, CCW Statute Violations, Statements Made to Third Parties, Anticipatory Search Warrants, Safety to Others
Leaving the Scene of a Personal Injury Accident, Pandering, Fingerprints for DWLS 1st Offense, Child Abuse, Drug Free School Zones, Computer Crimes, Identity Fraud, Consuming Alcoholic Liquor on School Property, Statewide School Safety, Fleeing From Police
Crime Scenes, Equal Protection, Escape, Use of Fake Warrant, 48 Hours, Gross Indecency, Resisting and Obstructing
OUIL, Home Invasion, Sex Offender Registration