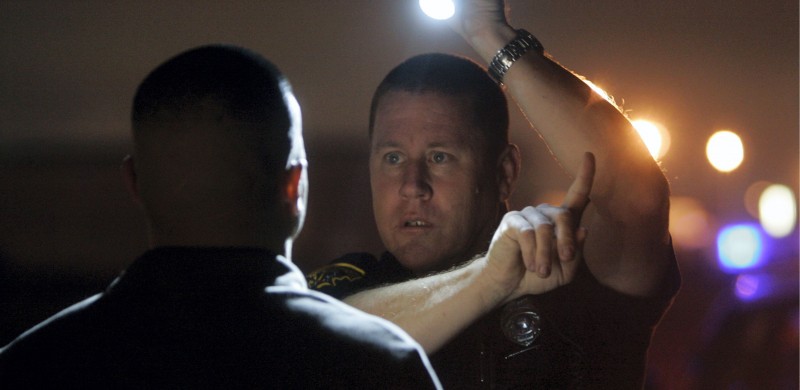 Aggressive police take hundreds of millions of dollars from motorists not charged with crimes.
Largely hidden from public view: the spread of an aggressive brand of policing that has spurred the seizure of hundreds of millions of dollars in cash from motorists and others not charged with crimes.
Thousands of people have been forced to fight legal battles that can last more than a year to get their money back.
Behind the rise in seizures is a little-known cottage industry of private police-training firms that teach the techniques of "highway interdiction" to departments across the country.
One of those firms created a private intelligence network known as Black Asphalt Electronic Networking & Notification System that enabled police nationwide to share detailed reports about American motorists — criminals and the innocent alike — including their Social Security numbers, addresses and identifying tattoos, as well as hunches about which drivers to stop.
Many of the reports have been funneled to federal agencies and fusion centers as part of the government's burgeoning law enforcement intelligence systems — despite warnings from state and federal authorities that the information could violate privacy and constitutional protections.
A thriving subculture of road officers on the network now competes to see who can seize the most cash and contraband, describing their exploits in the network's chat rooms and sharing "trophy shots" of money and drugs. Some police advocate highway interdiction as a way of raising revenue for cash-strapped municipalities.
"All of our home towns are sitting on a tax-liberating gold mine," Deputy Ron Hain of Kane County, Ill., wrote in a self-published book under a pseudonym. Hain is a marketing specialist for Desert Snow, a leading interdiction training firm based in Guthrie, Okla., whose founders also created Black Asphalt.
Cash seizures can be made under state or federal civil law. One of the primary ways police departments are able to seize money and share in the proceeds at the federal level is through a long-standing Justice Department civil asset forfeiture program known as Equitable Sharing. Asset forfeiture is an extraordinarily powerful law enforcement tool that allows the government to take cash and property without pressing criminal charges and then requires the owners to prove their possessions were legally acquired.
The Post found:
There have been 61,998 cash seizures made on highways and elsewhere since 9/11 without search warrants or indictments through the Equitable Sharing Program, totaling more than $2.5 billion. State and local authorities kept more than $1.7 billion of that while Justice, Homeland Security and other federal agencies received $800 million. Half of the seizures were below $8,800.
Only a sixth of the seizures were legally challenged, in part because of the costs of legal action against the government. But in 41 percent of cases — 4,455 — where there was a challenge, the government agreed to return money. The appeals process took more than a year in 40 percent of those cases and often required owners of the cash to sign agreements not to sue police over the seizures.
Hundreds of state and local departments and drug task forces appear to rely on seized cash, despite a federal ban on the money to pay salaries or otherwise support budgets. The Post found that 298 departments and 210 task forces have seized the equivalent of 20 percent or more of their annual budgets since 2008.
Agencies with police known to be participating in the Black Asphalt intelligence network have seen a 32 percent jump in seizures beginning in 2005, three times the rate of other police departments. Desert Snow-trained officers reported more than $427 million in cash seizures during highway stops in just one five-year period, according to company officials. More than 25,000 police have belonged to Black Asphalt, company officials said.
State law enforcement officials in Iowa and Kansas prohibited the use of the Black Asphalt network because of concerns that it might not be a legal law enforcement tool. A federal prosecutor in Nebraska warned that Black Asphalt reports could violate laws governing civil liberties, the handling of sensitive law enforcement information and the disclosure of pretrial information to defendants. But officials at Justice and Homeland Security continued to use it.
Civil forfeiture cash seizures
Under the federal Equitable Sharing Program, police have seized $2.5 billion since 2001 from people who were not charged with a crime and without a warrant being issued. Police reasoned that the money was crime-related. About $1.7 billion was sent back to law enforcement agencies for their use.
Here's a list of some of the money sent back to local police in the United States for seizures made alone or with others.
New York City Police Participated in 2,167 seizures – $27 million of $134.2 million
Los Angeles County Sheriff, Calif. Participated in 2,564 seizures-$24.3 million of $126 million
Los Angeles Police, Calif. Participated in 2,375 seizures-$18.4 million of $86.1 million
Houston Police, Tex. Participated in 798 seizures-$14.7 million of $63.3 million
Wayne County Sheriff, Mich. – 530 seizures-$13.4 million of $31.6 million
St. Louis County Police, Mo. – 644 seizures-$11.5 million of $42.1 million
Douglas County Sheriff, Neb. – 159 seizures-$11.5 million of $16.2 million
Atlanta Police, Ga. – 827 seizures-$9.3 million of $74.6 million
North Miami Beach Police, Fla. – 64 seizures-$9.1 million of $30.3 million
Laredo Police, Tex. – 149 seizures-$8.5 million of $20.1 million
Amtrak Police, Pa. – 894 seizures-$7.9 million of $53.2 million
Chicago Police, Ill. – 634 seizures-$7.9 million of $56.3 million
Milwaukee Police, Wis. – 1,223 seizures-$7.9 million of $19 million
Las Vegas Metropolitan Police., Nev. – 243 seizures-$7.3 million of $18 million
Baltimore Police, Md. – 1,528 seizures-$7.1 million of $18.5 million
Baltimore County Police, Md. – 981 seizures-$6.8 million of $19 million
San Diego Police, Calif. – 1,498 seizures-$6.8 million of $31.6 million
Jefferson County Sheriff, Ala. – 71 seizures-$6.7 million of $11.4 million
DeKalb County Police, Ga. – 408 seizures-$6.5 million of $41 million
Port Authority Of N.Y. and N.J. Police – 380 seizures-$6.3 million of $30.5 million
San Diego County Sheriff, Calif. – 1,511 seizures-$6.3 million of $33.2 million
City Of Phoenix Police, Ariz. – 483 seizures-$6 million of $15.8 million
There are no local agencies in the United States that received rebates of more than $250,000.
Note: Table does not include statewide agencies or task forces and only includes local agencies who received more than $250,000.
Source: A Washington Post analysis of Department of Justice data
Stop and Seize: More Investigative Articles by the Washington Post
In recent years, thousands of people have had cash confiscated by police without being charged with crimes. The Post looks at the police culture behind the seizures and the people who were forced to fight the government to get their money back.
Part 2: One training firm started a private intelligence-sharing network and helped shape law enforcement nationwide. Part 3: Motorists caught up in the seizures talk about the experience and the legal battles that sometimes took more than a year. Part 4: Police agencies nationwide routinely buy vehicles and weapons with money and property seized under federal civil forfeiture law from people who were not charged with a crime. Part 5: Highway seizure in Iowa fuels debate about asset-forfeiture laws. Part 6: D.C. police plan for future seizure proceeds years in advance in city budget documents. Chat transcript​: The reporters behind "Stop and Seize" answered your readers' about the investigative series.
Know your rights:
During traffic stops on the nation's highways, the U.S. Constitution's Fourth Amendment protects motorists "against unreasonable searches and seizures." The law also gives police the power to investigate and act on their suspicions.
Police have a long-established authority to stop motorists for traffic infractions. They can use traffic violations as a pretext for a deeper inquiry as long as the stop is based on an identifiable infraction.
An officer may detain a driver only as long as it takes to deal with the reason for the stop. After that, police have the authority to request further conversation. A motorist has the right to decline and ask whether the stop is concluded. If so, the motorist can leave.
The officer also has the authority to briefly detain and question a person as long as the officer has a reasonable suspicion that the person is involved in criminal activity. Reasonable suspicion is based on specific and articulable facts but falls short of the legal standard for making an arrest.
A traffic infraction or reasonable suspicion alone do not give police authority to search a vehicle or a closed container, such as luggage. Police may ask for permission to search; drivers may decline. Police do not have to tell drivers that they have a right to refuse.
An officer may expand a roadside investigation if the driver's responses and other circumstances justify a belief that it is more likely than not that criminal activity is occurring. Under this standard, known as probable cause, an officer can make an arrest or search a vehicle without permission. An alert by a drug-sniffing dog can provide probable cause, as can the smell of marijuana.
Police can seize cash that they find if they have probable cause to suspect that it is related to criminal activity. The seizure happens through a civil action known as asset forfeiture. Police do not need to charge a person with a crime. The burden of proof is then on the driver to show that the cash is not related to a crime by a legal standard known as preponderance of the evidence.
Sources: Jon Norris, criminal defense attorney; David A. Harris, University of Pittsburgh law professor; Scott Bullock, civil liberties lawyer, Institute for Justice; Department of Homeland Security.
Article Published on September 6, 2014