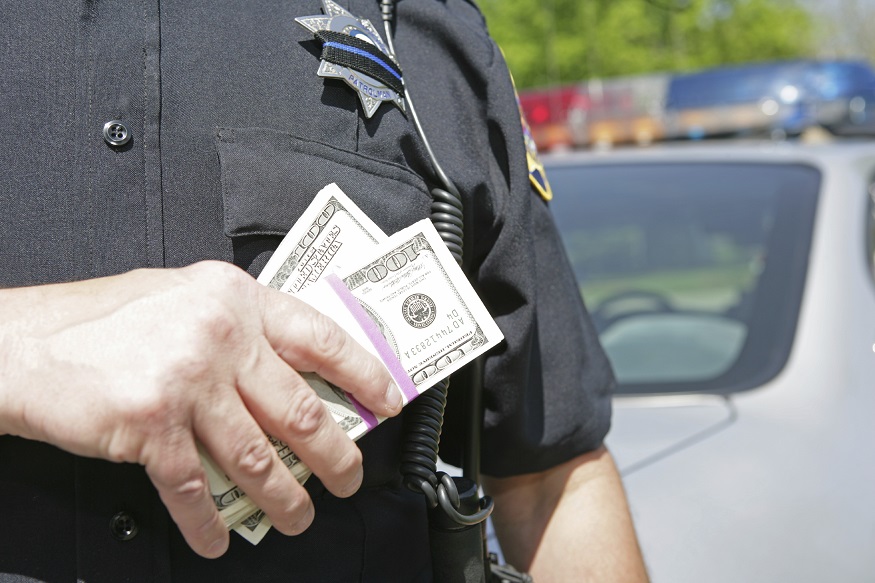 THETFORD TOWNSHIP (WJRT) – Thetford Township Police Chief Robert Kenny was arrested this week in connection with an investigation into surplus military equipment his department received.
Genesee County Sheriff Robert Pickell scheduled a press conference for Thursday morning to discuss "the arrest and charges" Kenny is facing.
Court records show Kenny is charged with embezzlement and obstruction of justice dating back to 2012.
The sheriff's office has been investigating Thetford Township's use of more than $1 million worth of surplus military equipment obtained through the Law Enforcement Supports Office over the past decade.
Kenny obtained the equipment, including a large forklift down to several used sleeping bags, on behalf of the township's two-person police department.
Thetford Township Supervisor Gary Stevens has challenged Kenny for months to account for the whereabouts of the equipment. Much of it had been stored on private property inside and outside the township.
Earlier this year, a resident dropped off a large forklift and other equipment at the township hall after storing it on his land for years. The forklift then ended up in Stevens' driveway a few weeks later, leading to a $1,300 towing bill to remove it.
Kenny also turned in an envelope this spring containing nearly $5,000, which he told officials was the proceeds from selling some of the equipment for scrap metal.
In April, the sheriff's office raided the Thetford Township offices and seized several boxes of evidence.
The Thetford Township Board had planned to seek a public vote in November on whether residents wanted to continue the police department, but those plans were nixed when board members learned it was too late to get a question on the ballot.
Report From ABC12 News Team (8/22/2018)
---
Thetford Township has to return its military surplus after police chief arrest
Michigan Radio By TRACY SAMILTON  9/11/18
Thetford Township will have to return its federal military surplus – if it can locate it – to the government, if there are no other police departments that want it.
That's after Thetford Township police chief Robert Kenny was arrested for allegedly embezzling from the program.  
Kenny acquired a large amount of federal military surplus since 2012 – nearly 4,000 items, with a retail value of $2.7 million. 
He was arrested in late August for allegedly pocketing the proceeds from selling some of it. 
Larry Goerge is the state coordinator for the surplus program. He says today, it's unlikely Kenny would have been able to get so much.
"There's been a lot of changes in the program since he was originally participating," says Goerge.  "We've covered a lot of those little loopholes that departments would have in the past."
Kenny faces up to five years in prison for the embezzlement. He was also charged with obstruction of justice after he staged a fake "discovery" of missing money.
Yet another problem came to light after Kenny's arrest.  The police department wasn't paying back a loan on a truck it purchased. The loan came from the township's sewerage department.  
Township supervisor Gary Stevens says he may have to reduce the hours of one of the police department's two remaining employees, in order to fix the budgets for the police department and the sewerage department.
There are some other consequences from Kenny's arrest. A day after the arrest, the township's clerk, a Kenny supporter, resigned.   
There may have to be a special election to replace her, because township trustees who supported Kenny wanted to hire one person and trustees who were instrumental in exposing Kenny's alleged crimes wanted another.
---
Komorn Law has represented numerous clients through the legal chaos of starting up a business in the Michigan Medical Marihuana Industry.
If you or someone you know is facing charges as a result of Medical Marijuana, DUI, Drugs, Forfeiture, Criminal Enterprise, etc. Please contact our office and ensure you're defended by an experienced lawyer in the evolving laws.
Lead attorney Michael Komorn is recognized as an expert on the Michigan Medical Marihuana Act. He is the President of the Michigan Medical Marijuana Association (MMMA), a nonprofit patient advocacy group which advocates for the rights of medical marijuana patients and their caregivers.
Contact us for a free no-obligation case evaluation
800-656-3557.
Follow Komorn Law