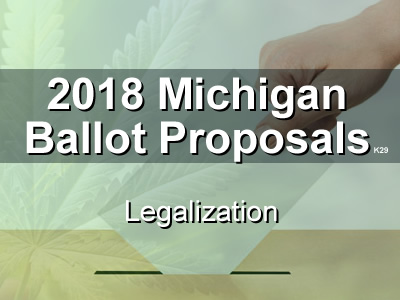 The proposed ballot language for marijuana legalization in the state of Michigan appears finished.
It will appear as proposal 1 on the November general ballot.
In April, the Michigan Board of State Canvassers approved a petition to legalize the recreational use of marijuana in the state of Michigan.
After the state legislature failed to take up the petition it would be put on the ballot for citizens to vote.
A proposed initiated law to authorize possession, use and cultivation of marijuana products by individuals who are at least 21 years of age and older, and commercial sales of marijuana through state-licensed retailers
This proposal would:
Allow individuals age 21 and older to purchase, possess and use marijuana and marijuana-infused edibles, and grow up to 12 marijuana plants for personal consumption.
Impose a 10-ounce limit for marijuana kept at residences and require that amounts over 2.5 ounces be secured in locked containers.
Create a state licensing system for marijuana businesses including growers, processors, transporters, and retailers.
Allow municipalities to ban or restrict marijuana businesses.
Permit commercial sales of marijuana and marijuana-infused edibles through state-licensed retailers, subject to a new 10% tax earmarked for schools, roads, and municipalities where marijuana businesses are located.



More proposal detail and other Michigan proposals
---
Komorn Law has represented numerous clients through the legal chaos of starting up a business in the Michigan Medical Marihuana Industry.
If you or someone you know is facing charges as a result of Medical Marijuana, DUI, Drugs, Forfeiture, Criminal Enterprise, etc. Please contact our office and ensure you're defended by an experienced lawyer in the evolving laws.
Lead attorney Michael Komorn is recognized as an expert on the Michigan Medical Marihuana Act. He is the President of the Michigan Medical Marijuana Association (MMMA), a nonprofit patient advocacy group which advocates for the rights of medical marijuana patients and their caregivers.
Contact us for a free no-obligation case evaluation
800-656-3557.
Follow Komorn Law