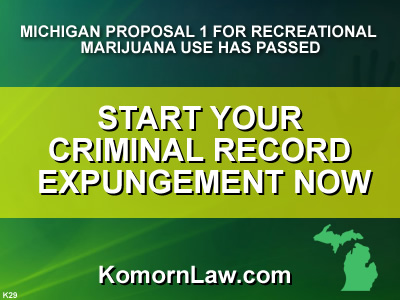 Michigan Voters Say Yes to Proposal 1 – Record Expungements Next?
Keep the momentum going and push for legislation to allow expungements for people with marijuana related criminal records.
When will marijuana be legal?
Michigan voters on Tuesday November 6, 2018 approved Proposal 1 to legalize recreational marijuana. 10 days after the election results are certified, which should be by early December.  Adults will no longer be arrested or have their belongings taken for simple possession and use of marijuana.
---
Have a Marijuana Related Criminal Record?
Get rid of it – Start the expungement process now !
Contact Komorn Law
800-656-3557.
---
What about people who have past marijuana related convictions?
There is a bill pending in the Legislature to require judges to consider expunging the records of people convicted of many misdemeanor marijuana offenses that will no longer be crimes under the marijuana legalization.
The new governor Gretchen Whitmer — also could consider pardoning some criminal offenders. She has said she would favor some sort of expungement for low-level marijuana offenses.
In other states where legalization has passed, California, Colorado, Maryland, New Hampshire and Oregon have taken steps to make it easier for people to get their convictions sealed or expunged.
Komorn Law has represented numerous clients through the legal chaos of starting up a business in the Michigan Medical Marihuana Industry as well as consulting and legal representation for Medical Maruhuana Patients and Caregivers.
If you or someone you know has been arrested as a result of Medical Marijuana, DUI, Drugs, Forfeiture, Criminal Enterprise or any other criminal charges please contact our office and ensure you're defended by an experienced lawyer.
Attorney Michael Komorn is recognized as an expert on the Michigan Medical Marihuana Act. He is the President of the Michigan Medical Marijuana Association (MMMA), a nonprofit patient advocacy group which advocates for the rights of medical marijuana patients and their caregivers.
Contact us for a free no-obligation case evaluation  800-656-3557.
Follow Komorn Law
This page is for informational purposes only. Laws, regulations and the world change routinely, therefore we insist you consult an attorney for the most current legal information.