With 20 years of experience, Michael Komorn has made his mark as an attorney who will fight for the best possible results while providing the highest level of service for all of his clients.
Michael has fought diligently on the frontier of Michigan Medical Marijuana legislation from its inception. His will and determination has produced the best results in counties across the state. His unwillingness to compromise the interests of his clients has brought him before the Michigan Court of Appeals as well and the Michigan Supreme Court.
Below please find some major cases and groundbreaking rulings that we feel best highlight Michael's many successes.
Check out our clients reviews of us on avvo:
https://www.avvo.com/attorneys/48334-mi-michael-komorn-747766/reviews.html
Very professional lawyers office…great team…did a great job for me.. I woukd defintaly use again.

The Best Attorney in Michigan

I contacted Michael Komorn to represent me in a case where I was falsely accused of committing a crime. Michael spent as much time that was needed, in person and over the phone, to thoroughly understand my case. After he was hired, he was very punctual and courteous and his team did an amazing job of providing me with updates and interviewing my witnesses. Ultimately, the case was dismissed on a technicality and I couldn't have asked for a better outcome. Michael is very passionate about his profession and it shows through his dedication and determination to win for you. I highly recommend his services to anyone who requires superb legal counsel.

Michael represented me in a marijuana raid case. He proved my innocence and the case was dismissed without prejudice before advancing into a jury trial. This man is really something special. Knows the ins and outs of the laws better then the people at the court house themselves. A1 a1 a1.
2018 Victories:
Client hired us to tackle their case, which became two cases that we were able to defend. First, a case from 2015 with 2 felonies narcotics/marijuana and a misdemeanor, potentially 6 years in prison. The second case happened in 2017 and was for 3 misdemeanors including another possession of marijuana charge. In the newer case, we had to fight the prosecutor because he tried to hide and obstruct exculpatory evidence and discovery. While working overtime on the two cases in different courts at the same time, we finished both cases with only an unlawful use of a license plate, $300 fine for our client.
2017 Victories:
Successful Section 8 MMMA Defense of 113 marijuana plants and 7 pounds of marijuana in Oakland County.
B.S. – Marijuana Possession, Charges dismissed with prejudice in OAKLAND COUNTY.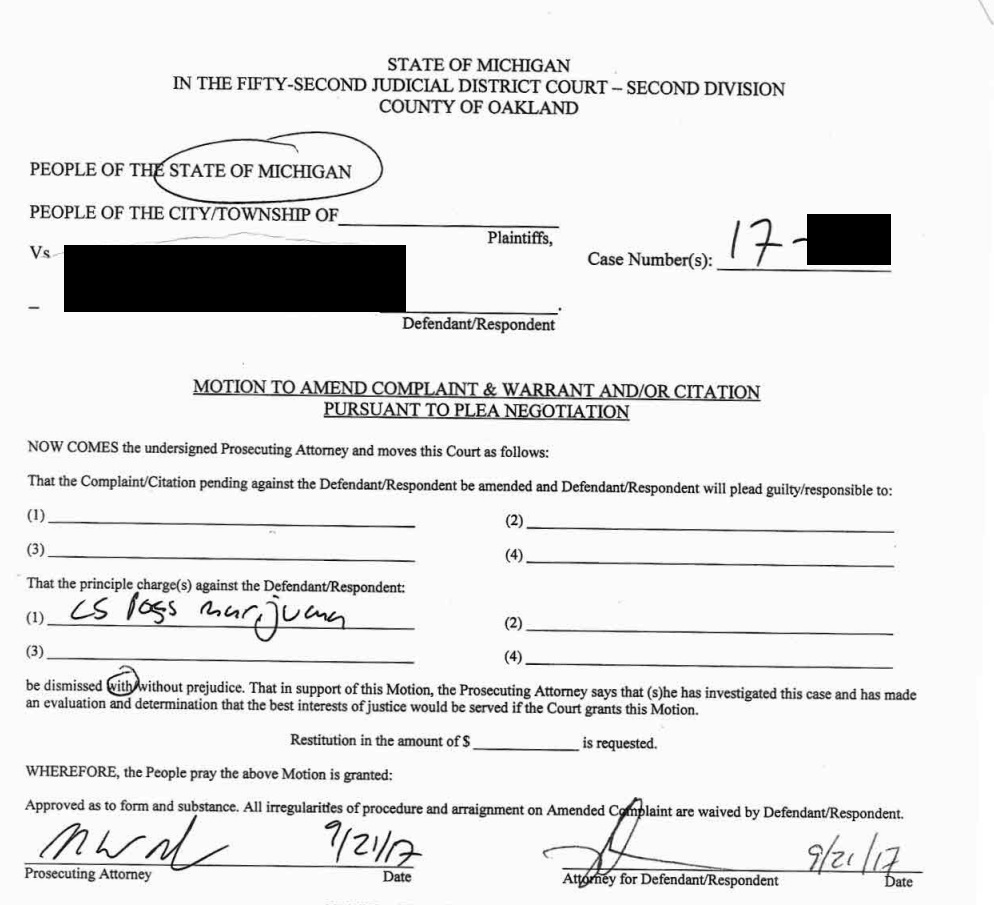 Oakland County is the worst county in Michigan for Medical Marijuana cases.
Today in the civil forfeiture against my client and his "allegedly evil" property the Court granted our motion for summary disposition ( no genuine issue of fact existed to which reasonable minds could differ) ultimately dismissing the forfeiture case and ordering the return of all that bad behaving property.
Archived Victores:
T.D.- Marijuana Possession, Withdrawal of Plea and Dismissal
Client charged with marijuana possession in Montrose MI. Client was assigned a court appointed lawyer and encouraged to plead guilty and accept 3 months of probation. Client hired Michael Komorn for representation and withdrew the plea. The charge was dismissed without prejudice.
C.B. – Marijuana Possession, Charges Dropped
Our client was pulled over for running a stop sign in Birmingham, MI. The officer reported smelling a strong odor of marijuana, and asked if client had marijuana in the car. Our client produced the marijuana and was given a ticket for possession.  After filing a motion to dismiss, the charges were dropped and client walked away with a traffic violation.
D.T. – Outdoor Medical Marijuana Grow, Charges Dropped
A common theme in medical marijuana raids; our clients were a husband and wife who were growing outdoors.  The Narcotics Enforcement Team raided and over 100 plants were confiscated resulting in felony possession, manufacture of marijuana, and maintaining a drug house charges. After the court ruled that we could present a medical marijuana defense to a jury, the people offered an innocuous misdemeanor. Our clients plead nolo contendere with a sentence agreement to 3 months non-reporting probation, no testing, with the only the requirement being that they pay a fine. Within one week of the sentence, the fine was paid, and the case resulted in all charges being dismissed.
C.C. – Modification of Probation/Bond Conditions to Allow Medical Use
Client was ordered by an Oakland County Judge to stop her medical use of marijuana and report for drug testing once a week. Client hired Komorn Law and after a motion for medical use was filed, client was permitted to use medical marijuana and drug testing was suspended.
S.G. – Medical Marijuana Grow and Possession With Intent to Deliver, Charges Dropped
Our client was pulled over for failure to use his turn signal. Officer reported smelling marijuana in his car and client produced a pipe filled with un-smoked marijuana. Client provided officer with marijuana caregiver cards and said he had more at his house. Officer followed our client to his house without detaining him and searched the residence along with a dozen other officers. Officers found over 100 plants at the residence.  Client hired Komorn law and after a motion to suppress evidence due to an illegal traffic stop, the judge ruled all evidence of the plants be suppressed. Client was charged only with a traffic violation.
C.P. – Medical Marijuana Grow, Case Dismissed With Prejudice
Client was charged with unlawful manufacture of Marijuana contrary to the medical marijuana act. After the prosecutor closed proofs, Komorn Law filed a motion for directed verdict. Komorn Law argued that the prosecutor had failed to prove that our client had more than 2.5 ounces of "usable marijuana" Under the Act,"usable marijuana" is defined as the dried leaves and flowers of the marijuana plant and any mixture or preparation thereof, but does not include seeds, stalks, and roots. Instead of presenting the marijuana in its usable form, the Prosecutor brought in yard waste bags full of unprocessed material well in excess of 2.5 ounces. The motion for directed verdict was granted, and the prosecutor was not granted an appeal. The case was dismissed with prejudice.
E.D. – Medical Marijuana Sale to Police Officer, Non-reporting Probation
Client was a patient who offered to sell marijuana to other patients on craigslist. Although client only sold to card holding patients, he had violated the Michigan Medical Marijuana Act, which protects only the transferee of medicine, not the transferer. Client sold to undercover cop and hired komorn law. Client got 7411, non reporting probation for 6 months.
R.R. – Possession of Marijuana, Not Guilty by Jury
Client was charged with possession of marijuana. Client had 3.5 grams of marijuana on his person, and refusing any plea deals, client went to trial with Komorn Law. Jury issued a verdict of not guilty, and the case was dismissed.