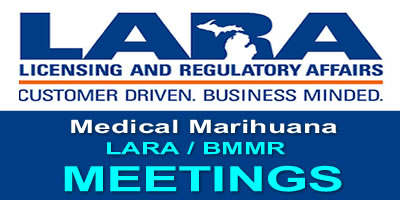 This public hearing is to allow citizens to offer comments related to the filing of a petition to include a particular medical condition or treatment to the list of debilitating medical conditions identified in MCL 333.26423(b).
The petitions submitted to the Medical Marihuana Review Panel (Review Panel) under the Michigan Medical Marihuana Act, 2008 IL
1, MCL 333.26421 to 333.26430 (MMMA) are as follows:
anxiety, depression, obsessive compulsive disorder, panic attacks, schizophrenia, social anxiety disorder, arthritis, rheumatoid arthritis, brain injury, spinal cord injury, asthma, diabetes, colitis, gastric ulcer, inflammatory bowel disease, ulcerative colitis, organ transplant, non-severe and non-chronic pain, Parkinson's, Tourette's syndrome, autism, and chronic pain.
Public comments on the petitions may be presented in person at the public hearing or emailed up until 5:00 p.m. on May 3, 2018, to the following email address: LARA-BMMRLegal@michigan.gov.
Please place "Medical Marihuana Review Panel" in the subject
line.
And any other business properly before the Review Panel.
Next meeting: May 4, 2018