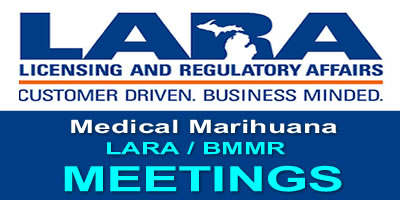 Medical Marihuana Review Panel
May 4, 2018 – 9:00 a.m.
Location:
Williams Building 1st Floor Auditorium
525 W Ottawa St, Lansing, MI 48933
AGENDA
The public hearing is for the Medical Marihuana Review Panel (Review Panel) to review
petitions to include a particular medical condition or treatment to the list of debilitating
medical conditions pursuant to the Michigan Medical Marihuana Act, 2008 IL 1, MCL
333.26421 to 333.26430 (MMMA).
The petitions submitted to the Review Panel under the MMMA are as follows: anxiety,
depression, obsessive compulsive disorder, panic attacks, schizophrenia, social anxiety
disorder, arthritis, rheumatoid arthritis, brain injury, spinal cord injury, asthma, diabetes,
colitis, gastric ulcer, inflammatory bowel disease, ulcerative colitis, organ transplant, non severe and non-chronic pain, Parkinson's, Tourette's syndrome, autism, and chronic pain.
And any other business properly before the Review Panel.
The meeting site and parking are accessible. To enhance accessibility for everyone, individuals attending the meeting
are requested to refrain from using heavily scented personal care products. People with disabilities requiring additional
accommodations to participate in the meeting should call Kelly Kronner at (517) 284-8584. LARA is an equal
opportunity employer/program.