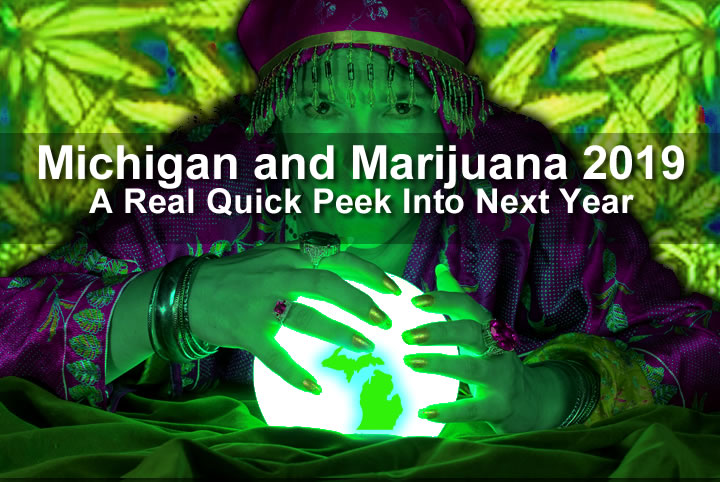 A really quick peek into the coming 2019 Year of Marijuana and Michigan.
Prop 1, along with the new State and Federal hemp legislation and the MMFLA, will fundamentally reconfigure the police encounter.
The smell or mere presence of cannabis can no longer constitute reasonable suspicion to stop or probable cause to raid.
Previous to Prop 1 of 2018 being enacted, for the past 30 years, 40 % of the criminal call for both district courts and circuit courts throughout the State were for marijuana possession cases.
These cases should dramatically decrease or end, as they have in Colorado , Washington and other legalized states.
Likewise it should follow that the Michigan State Police Forensic Science Department  (The State Lab) work load that devours 40 percent of its budget on marijuana should dramatically be reduced and allow that department to focus on the untested rape kits that remain on the shelves all across Michigan.
Opportunities
Prop 1, along with the new hemp legislation should set the stage for the renaissance of an entirely new multi-million dollar industry right here in Michigan.
There is no question that this new law should create opportunities for thousands of jobs that include both farming and manufacturing.

The now:
Currently, prosecutors are continuing to prosecute marijuana crimes that occurred before legalization.
The new law is not retroactive, prosecutors have discretion to proceed or drop cases.
What happens when it comes to sentencing, how would the judge proceed to sentence someone for a crime that is legal now?
Concerns that still remain
With the legislature still made up of older people and prohibitionists, newly crafted prohibitionist bills will be passed by the legislature in 2019.
A Scientific Fact?
Science will continue to show no driving influence with marijuana, but a nanogram limit maybe imposed by the prohibitionists, despite zero science to support such a finding.
The MSP roadside testing pilot program has finished its testing, and a report is due out soon.
The Struggle is Far From Over
Medical marihuana will be under attack in 2019 from the prohibitionists who thought "medical marijuana" was a sham all along.
We must continue to be steadfast in defending the MMMA for both patients and especially for the caregivers. This past year has taught us that the state regulated MMFLA system cannot exist without caregivers.
Case Dismissed…Not Just Yet
In speaking with other attorneys and firms, not a single case has been dismissed due to legalization. The brownie case is still active and is up for a hearing in Oakland County Courts in January 2019.
The butter case is still active, most recently the prosecutor filed an application to appeal the Mich Supreme Court 2017 opinion ruling that 4 am was unconstitutional for a knock and talk.
The Mansour case, where the Court of Appeals opinion declared all unusable (drying) marijuana to be illegal to possess, is pending appeal in the Michigan Supreme Court.
Keep an Eye on History
Our community must observe the history of Colorado and Washington to succeed in 2019. We must study Colorado and Washington's history so we will not repeat the same mistakes here in Michigan.
We can learn a lot about taxes, delivery services, social use bar type lounges and enforcement policy on state licensed businesses.
Social Clubs
Social Clubs / smoke lounges will be a big topic in 2019, for the people who cannot smoke at home, let's hope that any confusion on this topic is resolved with civility and not the military type raids that has been the calling card of law of enforcement regarding medical marihuana.
2019 is Here
2019 will be the year of the cannabis green rush. There will be winners and losers, my only hope is that these outcomes are determined from the organic market place ( the best business, the best products, the best operators) and not from the inept licensing board that has interfered with the development of the states regulated system.